What Happened????
As we are in the middle of the baseball playoffs, it seemed like a good time to take a step back and look at some players this season that, to put it mildly, disappointed! The preseason hype we saw a massive influx in player values, in turn, you are going to have some players who returned on that value, such as Fernando Tatis Jr. Then you are going to have players that plummeted in terms of value based on play and production. In this article, we are going to focus on a set of players that did just that…plummeted!  Then we are going to take a look at their numbers and see exactly how worried we should be. Most of these players are priced at bottom dollar, so selling should be out of the question but should you hold, or even be aggressive and buy some at these at cheap prices? Let's take a look at 6 guys…
---
The 6 BIGGEST MLB Disappointments
---
Shohei Ohtani DH/P – Los Angeles Angels – 26yrs
2020 stats : 46 games 29/175 for .190 avg 28.6% K rate 7 HRs 24 RBI 23 R 7 SBs  
2019 stats: 106 games 110/425 for .286 avg 25.9% K rate 18 HRs 62 RBI 51 R 18 SBs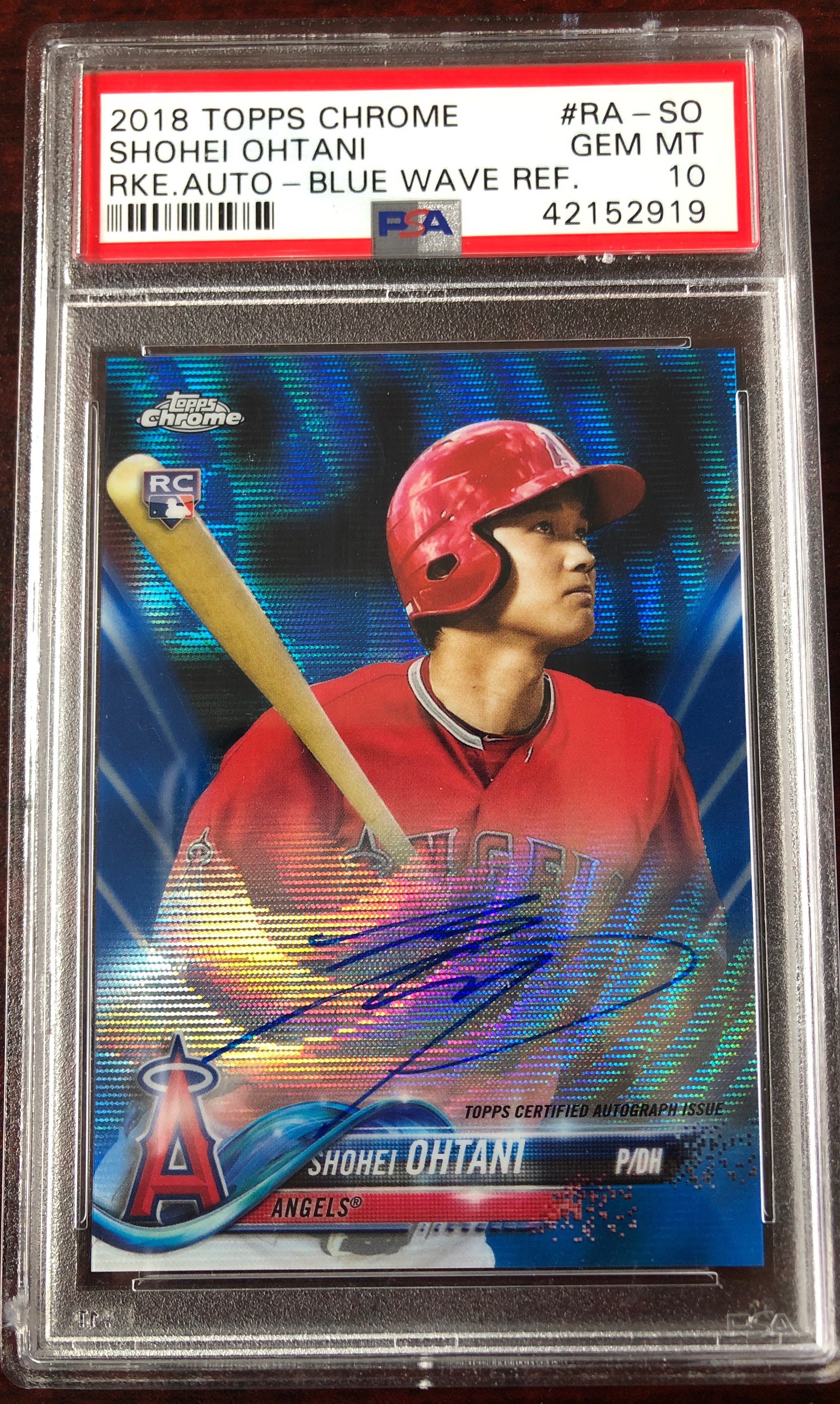 Ohtani had a bad 2020 baseball season. There is no way around that. Ohtani's 2018 Topps Update RC PSA 10 was hitting $150 in July, take a breath, it is now hitting $40 and under…. Yikes! So those of us who have some Ohtani RCs with grading companies and are still waiting for them to return are going to be getting them back at the wrong time. A lot of the reason that Ohtani gets so much attention is his ability to pitch and hit. With the injury migrating into this year, pitching was off the table. He also didn't hit well. So that makes it easy to see the price drop. I think an underlying factor again is the fact the Angels were terrible and there was no focus on Ohtani and the Angels at all year. I do see some numbers in his hitting that makes me feel this could have just been a bad year. Players often can have a bad 40 game stretch in a season, that is not uncommon. Simply projecting his HR & SB total on a full season still puts 25-25 type season possible. Assuming a full season with Ohtani isn't a sure thing, but the power and speed are there. He had an unusually low BABIP compared to previous seasons, meaning there is some bad luck that should be considered to the balls he did put in play. For Ohtani to reach the level he has been projected by the hobby, the pitching has to happen. He can do some special things hitting but if he can't be a valuable arm to the Angels we won't see the upside he was selling for in July again. With that being said, if you own Ohtani HOLD. The prices are so low at this point, it is worth the pre-season buzz for 2021 and see how the arm is doing. It seems to be rock bottom for him right now and he is still only 26.
IF YOU WANT AN OHTANI PSA 10 RC — CHECK OUT THESE! 
---
Keston Hiura 2B Milwaukee Brewers 24 years old
2020 stats: 59 games 46/217 for .212 avg 34% K rate 13 HRs 32 RBI 30 R 3 SB
2019 stats: 84 games 95/314 for .303 avg 30% K rate 19 HRs 49 RB

I 51 R 9 SB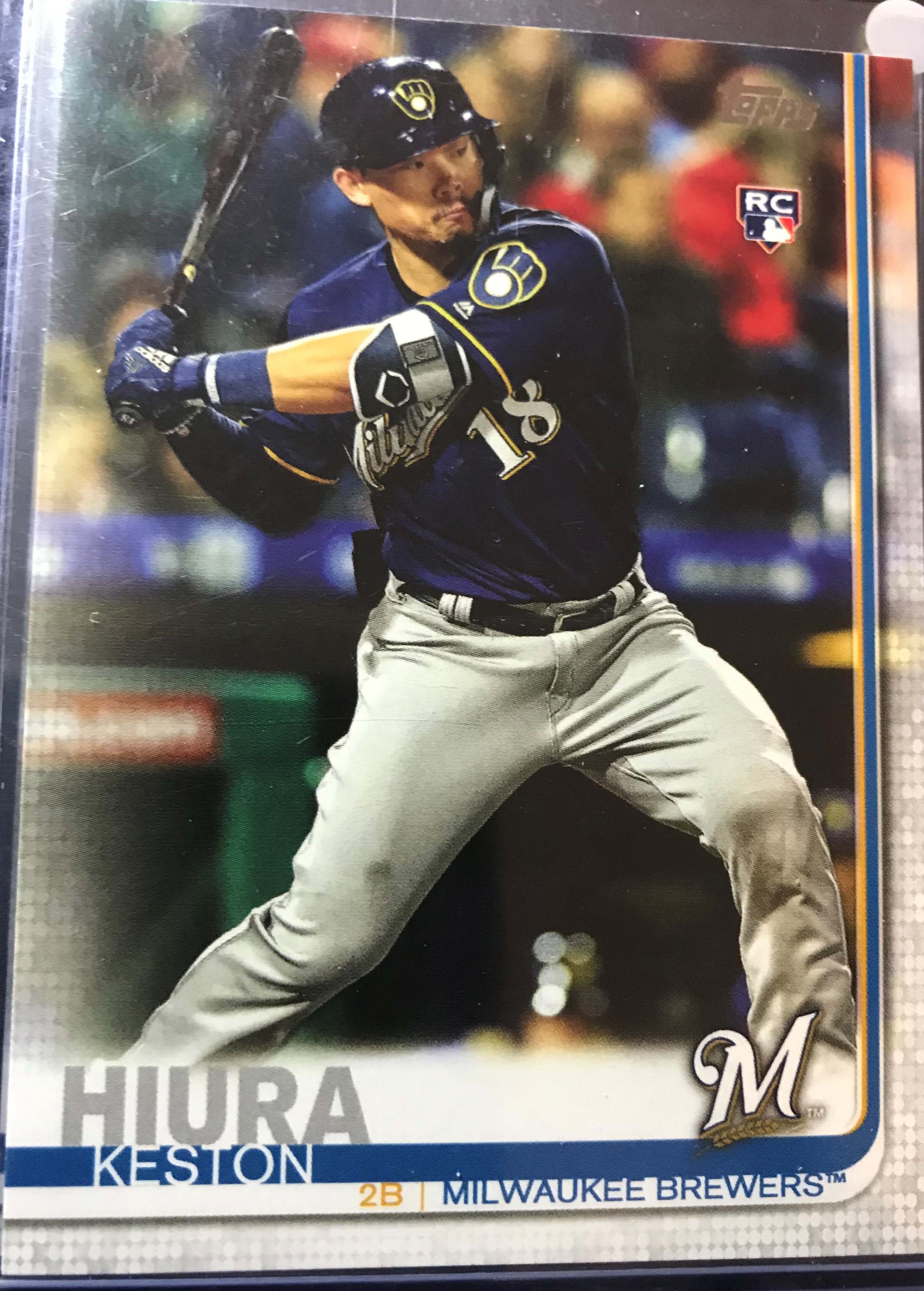 I wonder if something was in the water in Milwaukee? Hiura struggles were highlighted throughout the year, but even Yellich posted his worst statistical "year" so far. In March I expressed concern around Hiura's K rate, that number was relatively consistent this year with only a 4% increase. The issue with a high K rate is that you have fewer balls hit in play, which can cause a variance of the really good stretches and bad stretches when you do make contact seem better or worse than it is. I think by looking at Hiura's amazing finish to the 2019 season we can see now with his 2020 season stats that we have seen both ends of the spectrum. I think we saw the best case for Hiura in 2019 and the worst case in 2020. With that, it's going to be very tricky to see where he lands as a player. I feel much better about Hiura bouncing back compared to Ohtani, based on age and also the fact that most of the Brewers struggled this year for whatever reason. Hiura's PSA 10 2019 Topps Update RC hit over $100 pre-season, now it is at $26-$29! We see another tanked price. With that being said, with the price of grading $15ish, there is no sense in selling at this point for a 24-year-old player who has shown a strong bat. I would recommend BUYING Hiura all day under $30 while you can.
---
Victor Robles OF Washington Nationals 23 years old
2020 stats: 52 games 37/189 for .220 avg 28% K 3 HRs 15 RBI 20 R 3 SBs
2019 stats: 155 games 139/546 for .255 avg 22% K 17 HRs 65 RBI 86 R 28 SBs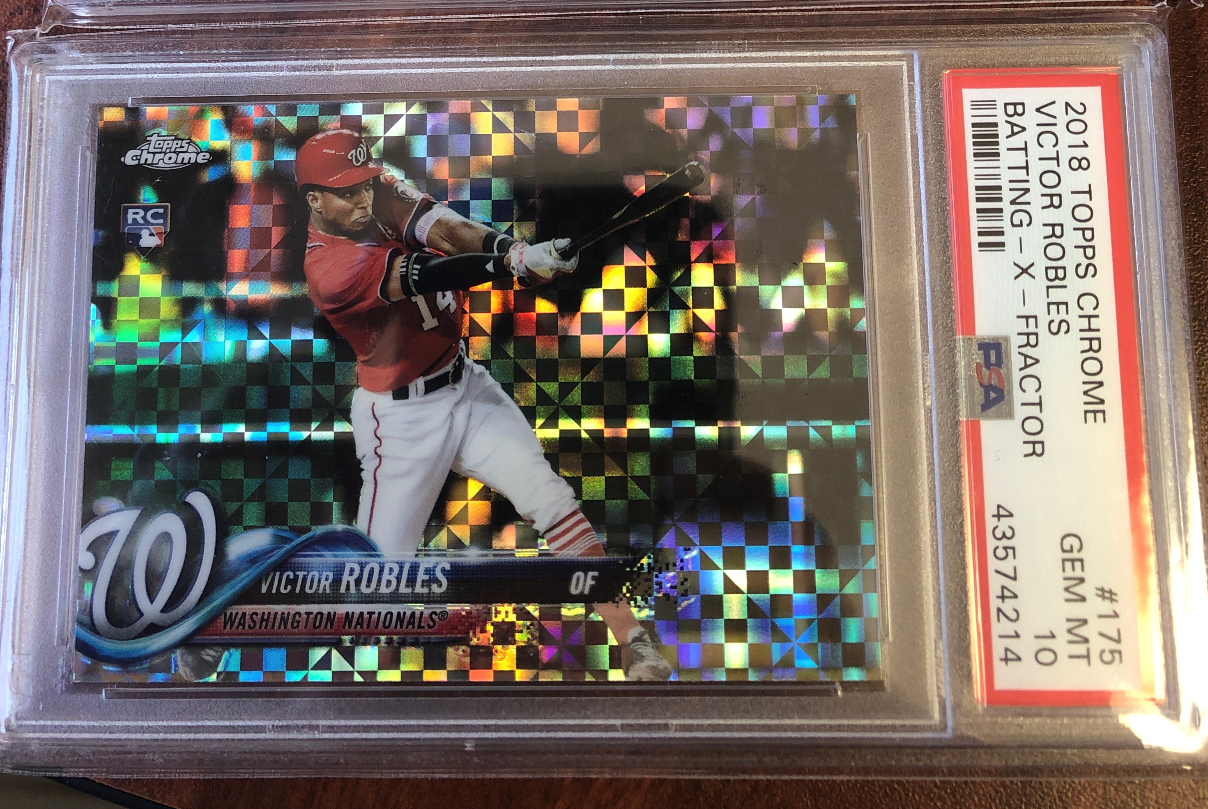 It was a very concerning year for Robles. Again, it was a small sample size but it is making his 17 HR output in 2019 look like a fluke. That power trend for him did not continue to say the least. The more concerning part was his speed being a non-factor. Only stealing 3 bases in 2020 is shocking with the speed he has shown throughout his career. With those two results in 2020, it is hard to look forward to the power/speed potential we saw in 2019.  The silver lining is Robles is still only 23. In 2020, the hope was he would show more contact and give the Nationals reason to move him up in the order, instead, we saw the opposite and we saw an 8-9 hitter all year. His PSA 10 2018 Series 1 RC is going for $28. In July he saw a high of only $50. So he has been relatively cheap for a while and hasn't had the big swing the previous two have had. I would be buying Robles at these prices. Especially seeing his SP PSA 10 photo variation going for $35 and his Real One Rc Heritage auto PSA 10 going for only $65. He is still 23, so I am going to give it one more year to see what he can do. The Nationals team as a whole had the World Series hangover, and hoping they can get him straightened out. At a minimum, I believe we will see at least one more climb with his values. 
---
Austin Meadows OF Tampa Bay Rays 25 Years Old
2020 stats: 36 games 27/132 for .205 avg 32% K 4 HRs 13 RBI 19 Rs & 2 SBs
2019 stats: 138 games 154/530 for for .291 a
vg 22 % K 33 HRs 121 RBI 119 R & 12 SBs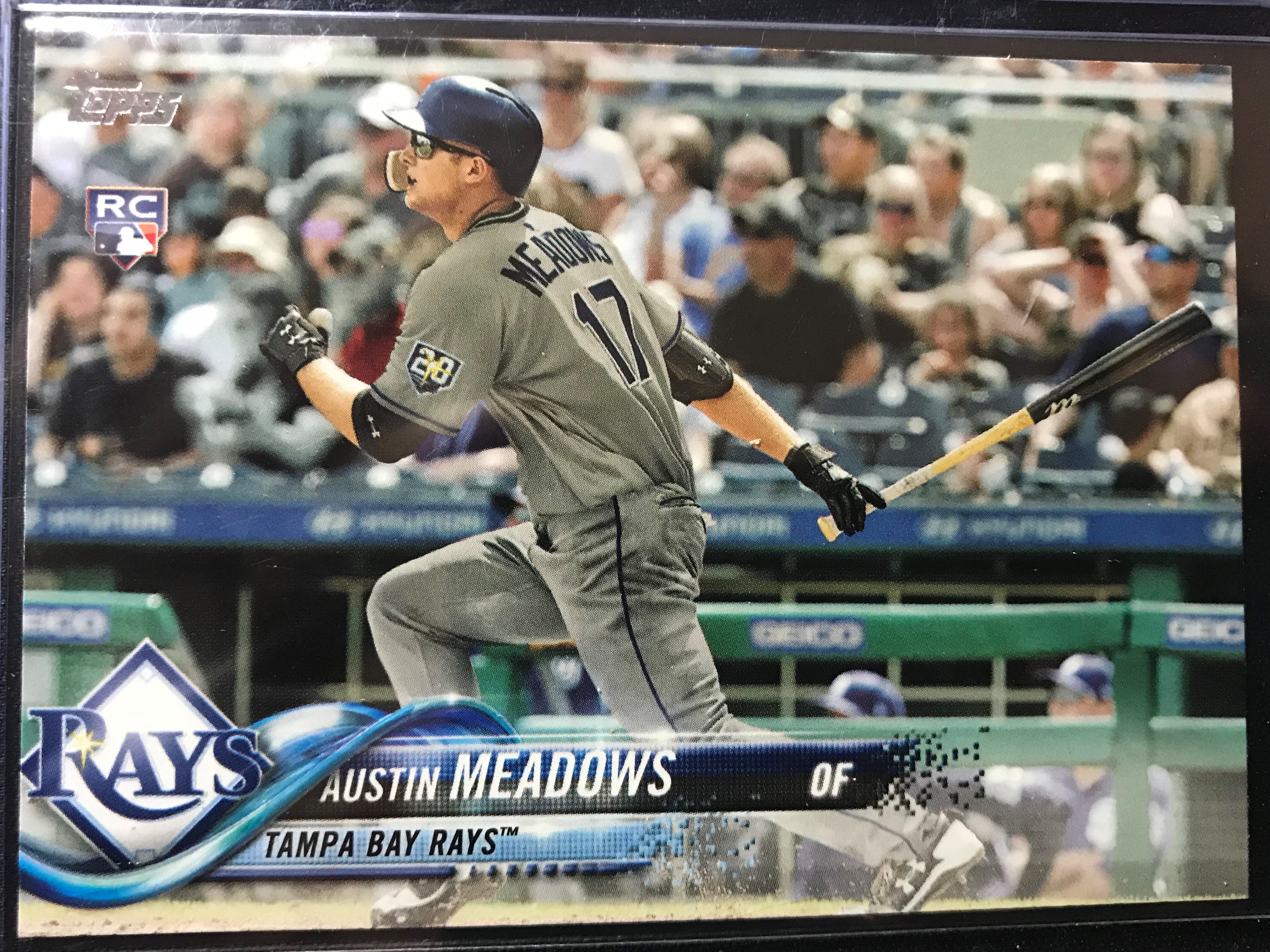 Meadows had a coming-out party last year for the Rays. He has had an injury-riddled year thus far in 2020. It has been weird for him and with that, I am not putting much stock into his actual baseball numbers. He started the year on the COVID list. He then had a thigh injury he was working through. Lastly, had an Oblique issue which he just returned from for the playoffs. Though he had an injury last year that kept him from getting 40 HRs, I am still not ready to cast the injury concern on him completely. Other than the injuries the only minor concern to me is that the Rays seem to be platooning him this year by sitting him vs right-handed pitching. I am not sure if that was by design with him coming back from COVID and then having minor injuries, or if they are concerned about him vs righties long term. Meadows prospect status was always very high and in his first action in the bigs, we saw some big-time numbers. The Rays are in the mix for the championship this year being in the WORLD SERIES, and I am hoping Meadows can show us something at the end to excite us for 2021. His PSA 10 2018 Topps Update Rc is hovering around $20-$25. Super cheap in my mind for a guy that had some bad luck in 2020. Even though he is older than Keston, anything under $25 has very little risk. Go and buy some Meadows! We may even see a bump soon if he makes some noise in the ALCS. He was selling for $65 in August, so it seems like an easy 3x jump is possible at a minimum. 
---
Ozzie Albies 2B Atlanta Braves 23 years old
2020 Stats: 31 Games 34/136 for .250 avg 24% K 6 HRs 19 RBI 22 R and 4 SBs 
2019 Stats: 160 games 189/640 for .295 avg 16% K 24 HRs 86 RBI 102 R and 15 SBs
Albies had a rough start as I mentioned in one of our RC report articles. He then battled a wrist injury that took over half of the shortened season. However, since his return, he has turned it on and his projected outlook looks pretty good! The Braves did outstanding in the playoffs, and Albies made some noise in the hobby. If he can be a part of the Braves early run next season you will make some quick returns on his flagship prices. His PSA 10 2018 Series 1 RC was hitting close to $100 in July, since then it is now down to the $35-$40 range. I think he is a nice price right now and if they get anywhere below $30 it would be a strong buy given his age and market. Albies still only 23 with a very talented Braves team can be a long term star for them. With that being said, I think he will be one of those players that will continually sit in the middle of the high-low values. Right now he is closer to the low end, so I expect him to be closer to $70 as the playoffs wrap up. 
---
Pete Alonso 1B New York Mets 25 years old
2020 Stats: 57 Games  48/208 for a .231 avg 25.5% K 16 HRs 35 RBI  31 R 1 SB
2019 Stats: 161 Games:155/597 for a .260 avg 26.4% K 53 HRs 120 RBI 103 R 1 SB
Alonso is a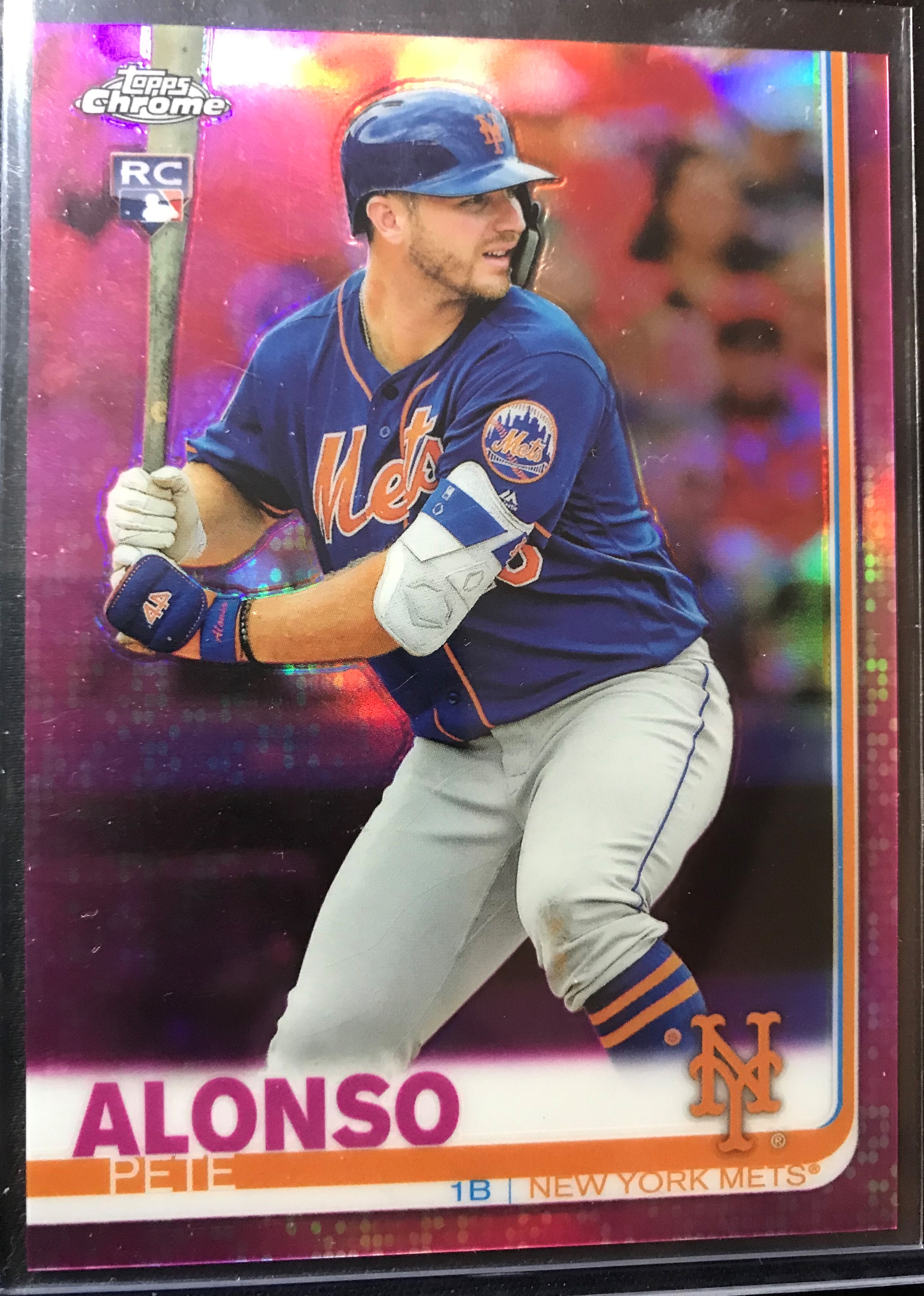 n intriguing situation in the hobby. Reason being,his PSA 10 Topps Series 2 went from around $100 in July to $35 most recently. Why? When you look at Alonsos numbers he still projects to a 48 HR 105 RBI from his numbers this year. The Mets were awful, I am sure that has something to do with it but if his price point hit $100 simply on a 50 HR season last year then why the change this year? He did see a dip in his AVG but that can be reflected in his low BABIP this year which can be attributed to bad luck. His hard hit rate, barrel %, and exit velocity were are basically the same this year. That shows me he was still hitting the ball hard and he is still a 50 HR type of hitter. I think we are in a great buying window for Pete Alonso especially with the market he is in. If the organization can get turned around he will see some good gains in his value next year when he hits 50 bombs again.
---
When evaluating RC cards you want to put your money into, it is important to be patient. I do think with these 6 guys are all at a low price based on their talent and age. I hope you can use this information to make sound decisions on them going forward. With a couple of them the idea might be that the next bump…you sell, like an Ohtani. I get it. But I challenge you to take this information to paint your prediction of these guys going forward…and how you can buy low! I think Meadows might be the toughest call, as he just had an odd year of injuries and COVID related issues. Robles & Ohtani are the most concerning, while I think Hiura, Albies, and Alonso I still feel pretty good about. All of them have little risk as you can see. What is your plan with these 6? Leave a comment here on our Discord or even take it to twitter @tbanker28 and let me hear it! Happy collecting! 
Tyson
---
HERE ARE THE TOP 10 MOST WATCHED BASEBALL RC CARDS!